Seasonal Tent / and RV Campground
At Dog Lake Resort, we appreciate that seasonal RV camping can be the most enjoyable way to spend economical family time and take pleasure in the great outdoors. We know this because we are RV enthusiasts as well!
We have tailored our park to meet the demands of today's RVers. Each of our more than 100 seasonal serviced campsites have a 15-amp power supply, water hook ups, and are close to modern, clean showers in two convenient locations. You will also have access to a laundry facility, and a sewage dumpsite. We cater to the RVer on the move and have sites available for those that want to stay with us for a short stopover, or an extended period of time. These flow-through sites are spacious and easy to access, even for the novice driver. Choose between open, shaded, and treed sites that are semi private, with your own picnic table and fire pit. Pets are welcome.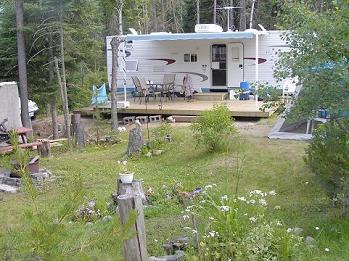 2022 Campground Rates:
(Rates include electricity and water. HST is NOT included in listed rates.)
---
Daily - $62
---
Weekly - $450
---
Monthly - $1700
---
Seasonal Site - $3500
Site with water and power (15amp)
---
Day Visitors - $10/person
Seasonal Beaching - $150
Seasonal Docking - $275
Honey Wagon - $75/season