Canadian Houseboat Adventures
Houseboat Rentals Include: fully equipped kitchen, dishes, pots 'n pans, cooking utensils, coffee maker, toaster, 3 and 4-pc baths, linens/blankets, towels, gas BBQ, marine radio, 2500 watt Honda generator, 16' Lund boat and 20 HP Mercury motor.
We provide a complete onboard orientation for all our guests on the operation of the vessels and their systems before leaving the marina. Houseboats appear to be difficult to pilot but we assure you they are not. We will even ride out and assist you until you become comfortable with the operation of the Vessels. We furnish all maps necessary to navigate safely on Dog Lake and have all points of interest and the best anchorages clearly marked to ensure your trip will be safe and care free.
What to bring with you on your Houseboat adventure:
lawn chairs, bug repellant, flashlight, radio, beach towels, sunscreen, coolers, food, water, paper towels, children's life jackets, camera, and fishing equipment.
Boarding is at 3:00 p.m.
Boats are due back at 11:00 a.m. on day of departure
Party Girl and Happy Camper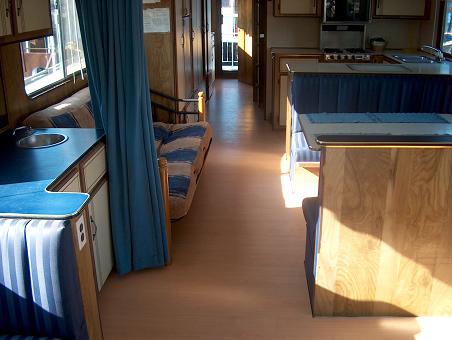 For more information, contact Dog Lake Resort
For more information, feel free to give us a shout!
Email: info@doglakeresort.com
Phone:(807) 767-1809
Toll Free: 1-800-466-0918
Dog Lake Resort
R.R.#14, Box 30, Site 12
Thunder Bay, Ontario Canada
P7B 5E5